♥
Okay, so who else is glad that 2022 is FINALLY here? Let it be said, we've got high hopes for the ushering out of 2021 and welcoming in 2022… and we thought 2020 was bad! But there's good news, there's now 365 days to get a fresh new beginning, and there is no better way to get the new year off to a perfect start than by booking in a blissfully relaxing local wellness retreat.
Do not underestimate the power of having something to look forward to, to help motivate you and get you through the inevitable tricky times that come with this beautiful, messy thing called life.
That's why we have put together this list of some of our favourite wellness retreats you can enjoy in 2022, all within WA (just in case!) 😉
♥
♥ Denmark Women's Retreat – Denmark, WA
31st March-5th April, 2022
Holistic Health Coach, Kelly Dalby, is running her Autumn Edition retreat in beautiful Denmark. Enjoy the beautiful scenery while you take part in activities like Pilates, yoga, trail walks, delicious and wholesome food, healing treatments, and a few other surprises to help you fully immerse yourself in the experience and reconnect with your inner self.
Register your interest now to receive first room preferences for this 6 day / 5 night experience in nature. This retreat is perfect for those looking to re-set, be inspired, enjoy your own space, make connections, and have fun!
Register your interest & book in by emailing kelly@kellydalby.com.au for more information.
♥
♥ Bare & Wilde Rottnest Wellness Retreat – Rottnest Island, WA
13th-15th May, 2022.
This luxurious retreat is all about embracing self-love and enhancing your wellbeing through movement, wholesome food and igniting creativity. Run by the Bare and Wilde team, this retreat includes everything you need for the ultimate bliss-cation at the gorgeous Samphire Resort on Rottnest Island.
This retreat features delicious plant-based meals prepared by Samphire Resort's in-house chef, fitness activities like yoga, Pilates, HIIT, and a group cycling tour, and other outdoor adventures and fun-filled creative activities that will inspire you to live your best life! Plus, like all Bare and Wilde retreats, you'll also get to enjoy their seasonal Wellness Box featuring gifts and samples from their non-toxic e-boutique.
Learn more about this luxurious retreat and book your place here.
♥ This could be you!
♥ Soul Glow Retreat – Ningaloo, WA
4th-9th June, 2022
For those looking to escape Winter, this retreat offers the chance to embrace not only the glorious Ningaloo sand and sun, but also to embrace and celebrate all that is you!
The Soul Glow Retreat is run every year by Caryn at Soul Sparkle, who specialises in embodiment coaching, meditation and yoga, as well as running Venus in Gemini (an incredible sparkling rosewater drink biz!), & amazing retreats.
This retreat incorporates different elements of wellness practices, including meditation and visualisation sessions, soul coaching, breathwork, connection sessions and pilates and yoga classes, but also includes some unique activities that take advantage of the stunning location like snorkeling the stunning reefs, sunset hikes and stargazing.
Optional extras include swimming with whale sharks and relaxing massages, to ensure a completely unforgettable experience!
Find out more & book in for this magical experience here.
♥
♥ Reconnect to your Body, Mind & Soul – Margaret River
June (exact dates TBC), 2022
Immerse yourself in nature at this stunning retreat, located within WA's beautiful South West. This retreat is perfect for those who want to enhance and improve their yoga and movement practice.
Just imagine, waking up with Sun salutations, enjoying creative activities, eating delicious plant-based meals from @anotherhungrytaurus, exploring the outdoors and connecting with nature, and of course getting some much needed downtime to reset and relax. Enjoy a variety of yoga classes including Yin, Flow, Hatha, Restorative and Nidra, and quiet your mind with guided meditation sessions.
For pricing and availability please email sanctuary.enquire@gmail.com or visit the website to learn more about this invigorating retreat.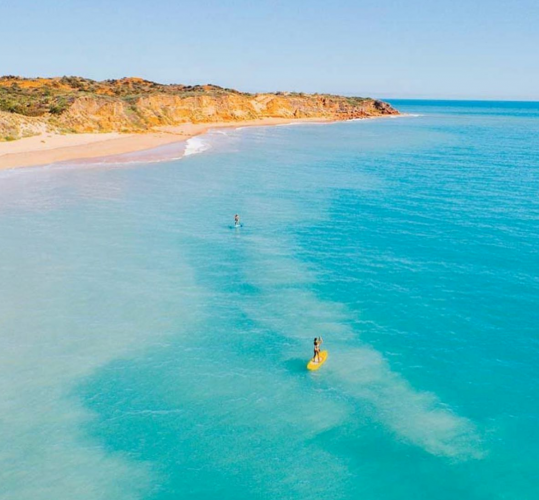 ♥
♥ Tamara Yoga Kimberley Eco Retreat – South of Broome, WA
6th-11th August, 2022
11th-16th August, 2022
Just imagine waking up in your very own safari tent, before meeting for meditation on a stunning beach. Sounds like the perfect way to start your day, right? Well that's just the beginning of what is in store for you when you sign up for the Kimberly Eco Retreat, with Tamara Yoga. Why not add in some yoga with gorgeous views out to the red cliffs set against the Indian Ocean, delicious food, and maybe humpback whale-watching to top it all off! These tours are so popular that they are running two sessions, or you can even book both sessions to take even more time for yourself. After all, you deserve it!
The retreat includes accommodation, all meals, daily yoga and meditation sessions, as well as use of kayaks and SUP boards, if you have a little extra energy to expend! Lock in your spot on this epic retreat here.
Whether or not you decide to embark on one of these gorgeous retreats, or decide to take other steps to ensure next year is blissful, we hope that 2022 is your best year yet!
We'd love to hear if you decide to indulge in any of these retreats or if there are any you have been to and would recommend – leave a comment below or come say hi on Instagram at @wellnesswa.
Be well,
xoxo
Leah is a freelance content creator from Perth who loves her dog, trying weird fitness trends, beach days and avocado toast. Follow her Instagram @leahonthedoor